Model WMA (Wall Mounted Absorber) ~ Wall Panels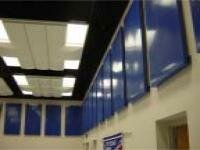 Model WMA, wall mounted absorbers, are a highly efficient solution for ambient and reverberant noise issues and can significantly enhance the comfort level in both commercial and residential buildings. The perforated metal shell contains a semi-rigid mineral wool core and offers high performance noise absorption while withstanding even the harshest environments.
Wall Mounted Absorber panels are durable, high performance, easily installed and are available plain, or painted in a selection of colors.
Suitable applications for wall mounted absorbers include: indoor pools, theaters, churches, convention centers, gymnasiums, auditoriums, or anywhere maximum durability is required.

click here to download the Wall Mounted Absorber Panels Spec Sheet